Situated on 31 acres of rolling land in Fairport, NY (Town of Perinton) on Rt. 250 near Rt. 31 in southeast Monroe County.
The Georgetown Commons Homes Association, Inc., established in 1972, is a community of 212 townhomes. We are a multi-generational, owner occupied community with severe rental restrictions and a rich past and a bright future.
Weather Links for Fairport, NY
Resident Reminders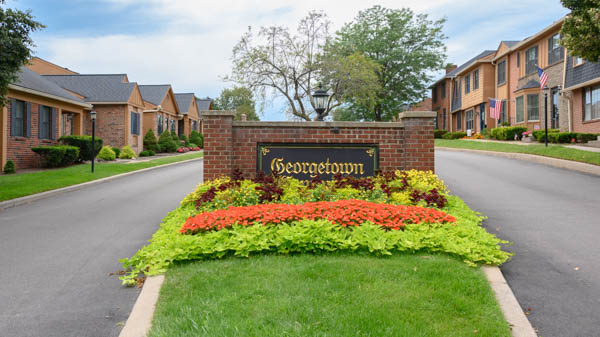 See the November Newsletter for board meeting highlights.
Georgetown Holiday Party will be held on
December 12th from 6:00-7:30pm in the Clubhouse.
Georgetown Liquor will be offering sparkling wines for us to sample. Please bring an appetizer to share and your adult beverage.
Seasonal Reminders:
Seasonal decorations are permitted but they should be in place and removed at a reasonable time before and after the specific holiday and cannot interfere with lawn mowing, snow removal or other maintenance functions.
Display holiday decorations between Thanksgiving and  January 15th of the following year.
Holiday lighting may be placed around the entry doors and in the shrubs at the front of a residence. When placed around entry doors it must be attached to the door frame – not to the side of the home.
Inflatable decorations are not allowed at the front of a residence.
See the Residents Guidelines on the Documents & Forms Page.
Don't forget to look for information about how to handle various emergency situations on the Emergency Preparedness Page.
Promote safety. Keep your outside garage light on from dusk to dawn.
Georgetown Commons Residents
Do you have gardening tips or a good recipe?
Read a good book lately?
Do you have any current or historical photos?
Send  to gtchoa14450@gmail.com so we share with the community on our website.