"Situated on 31 acres of rolling land in Fairport, NY (Town of Perinton) on Rt. 250 near Rt. 31 in southeast Monroe County."

The Georgetown Commons Homes Association, Inc., established in 1972, is a community of 212 townhomes. We are a multi-generational, owner occupied community with severe rental restrictions and a rich past and a bright future.
Resident Reminders
The Georgetown Commons POOL OPENS  Saturday, May 25th (weather permitting). The pool will be open from 10:00 am until 8:30 pm daily until Labor Day.
See the May Newsletter for board meeting highlights.
See the Residents Guidelines on the Documents & Forms Page.
Over the next several months the GCHOA Emergency Preparedness Committee will be sharing information about how to prepare for, respond to, and recover from natural emergencies. Keep your eye on the monthly newsletters The Georgetown Crier each month for more details. The articles will also be posted on a new page on our website called Emergency Preparedness.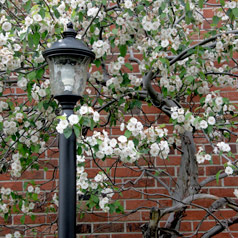 Welcome Spring!
Promote safety. Keep your outside garage light on from dusk to dawn.
Georgetown Commons Residents
Do you have gardening tips or a good recipe?
Read a good book lately?
Do you have any current or historical photos?
Send  to gtchoa14450@gmail.com so we share with the community on our website.